Home
> Certifications
Certifications
Unlock your door to opportunity with IIA Global Certification
Earning your certification is like having a key to the vast world of opportunities the profession of internal auditing offers placed in the palm of your hand. It can open doors you did not even know existed, as the three or four letters that now follow your name will make one powerful statement about the expertise you bring to the table. Ultimately, becoming certified will:
Help you earn credibility and respect in your field.

Open more opportunities for advancement.

Increase your earning potential by as much as 51%.*

Prove your willingness to invest in your own development.

Demonstrate your commitment to your profession.

Improve your internal audit skills and knowledge.

Build confidence in your knowledge of the profession.
*According to The IIA's 2017 Internal Audit Compensation Study (Study), the median salary of auditors who hold their CIA designation is as much as 51 percent higher than peers without the credential (based on U.S responses).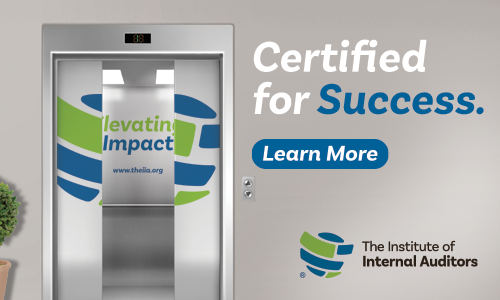 Wherever your journey takes you, there's a credential along the development pathway to strengthen your knowledge base, deepen your competencies, and distinguish you among your peers. Click here to find out more.
NEW! IIA Official Glossary
The IIA Glossary comprises internal audit terminology extracted from our official sources: the International Professional Practices Framework (IPPF); Internal Auditing: Assurance & Advisory Services, 4th Edition (Textbook); and Sawyer's Internal Auditing, 7th Edition. Find out more here.