Home
>
News and Advocacy
> CCP for IA
CCP for IA

What is it?
The Career Conversion Programme (CCP) for Internal Auditors is a programme by Workforce Singapore (WSG) under the Adapt and Grow initiative, in collaboration with the Institute of Internal Auditors Singapore (IIA) and Singapore Accountancy Commission (SAC).
Overview of Programme
The six-month CCP programme aims to convert mid-career Professionals, Managers, Executives, and Technicians (PMETs) into Internal Audit roles. IIA is the appointed programme manager for the CCP. CCP trainees will undergo facilitated training and On-the-Job-Training (OJT).
For more information on the Frequently Asked Questions, Click here.
Who can apply?
To apply, you are:
Be a Singapore Citizen or Permanent Resident aged 21 years and above;

Must be a newly hired PMET for not more than three months from the date of application, and nominated by an eligible company for the

C

CP

;

New hires must have graduated or completed National Service, whichever is later, for at least two years prior at the point of application;

New hires should not have prior working experience and or in a similar job role prior in internal audit related functions prior to joining the

C

CP

; and
Application for the

C

CP

is subjected to the employer's hiring and selection process.
Individuals who are shortlisted by participating companies for interviews will hear from them directly.
All participating companies must fulfil the following criteria:
Registered, incorporated and based in Singapore with a Unique Entity Number (UEN) registered with Accounting and Corporate Regulatory Authority (ACRA);

New hires cannot be immediate ex-employees of companies related to the applicant company;

Offer a full-time PMET position directly related to internal audit job function with at least a 12-month employment contract;

Must be able to provide a structured training plan and a supervisor to guide the new hire; and

Be committed to work with WSG and IIA on the necessary administrative matters related to the

C

CP

.
This CCP is not applicable to those who are serving the Singapore government and its related agencies or organisations.
How does it work?
Participating companies will receive the following funding support, provided the corresponding requirements are met.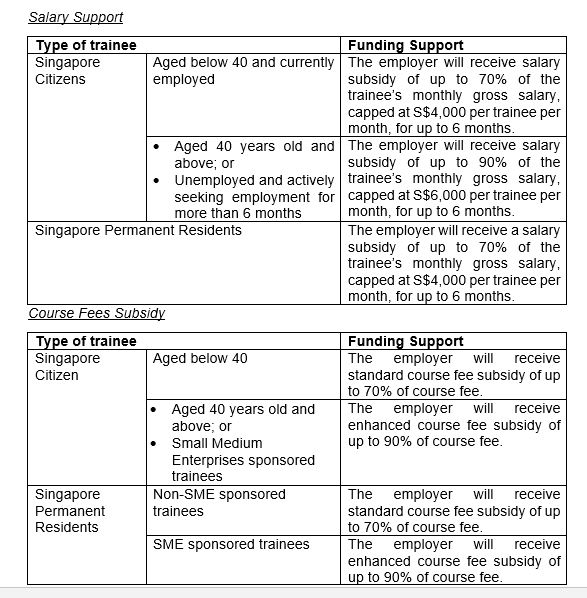 *Enhanced funding available under Enhanced Training Support for SMEs and SkillsFuture Mid-Career Enhanced Subsidy will be claimed via SSG's SkillsConnect Portal (or equivalent) by participating companies. Participating companies will need to pay $3,996.00 at first instance.
Sharing by Wong Ying Ying
Hear from Wong Ying Ying about her personal journey from converting to internal audit at the Career Opportunities and Trends in the Accountancy Sector webinar conducted by Workfoce Singapore (WSG). Her session is from 22:05 - 32:50 of the recording.
Open the video link in a new tab if unable to view the video on this page.
Contact Details
For CCP related enquiries or more info, please contact the programme manager, IIA Singapore at ccp@iia.org.sg.
This CCP has ended on 30 June 2022.
We are not accepting new applications for CCP now.