Home
>
News and Advocacy
>
Our Presence
>
Past Events
>
Year 2019 Events
> 43rd Annual General Meeting
43rd Annual General Meeting
IIA Singapore held its 43rd Annual General Meeting (AGM) on 29 August 2019 at M Hotel, which saw the attendance of over 70 members. The AGM provided an opportunity for the Board of Governors to meet with members and hear their views. This was also the last AGM that Ms Tan Boon Yen presided as President of the Institute.
During the AGM, members were given a snapshot of the key achievements of the Institute's 4-year strategic plan, as well as the initiatives delivered during the past year.
The AGM also saw the election of Mr Koh Chin Beng as President of the Institute. Three new members were elected to the Board and they are Mr Stephen Ching, Senior Vice President, Head of Internal Audit, Singapore Technologies Engineering Ltd; Ms Jennifer Ong, Director, Group Internal Audit, MOH Holdings Pte Ltd and Mr Simon Ong, Chief Audit Executive, Knowles Corporation.
In addition to these new members, five members were re-elected to the Board. Former President Ms Tan Boon Yen shall be an ex-officio member of the Board and takes on the role of Immediate Past President. The 16-member Board of Governors for FY19/20, including the new members comprises:
President
Koh Chin Beng
Vice President
Tan Suan Ee
Goh Chin Yee
Secretary
Debbie Goh
Treasurer
Jonathan Ho
Governor
Raj Bux
Vincent Cheang
Stephen Ching
Lim Boon Chye
Keith Ng
Jennifer Ong
Simon Ong
Nicodemus Tan
Patricia Tan
Shalinder Taneja
Immediate Past President
Tan Boon Yen
In his thank you speech, Mr Koh said: "My goal as the President is to build on the leadership of my predecessors, by continuing to increase the value proposition that the Institute delivers to our members, and to increase the engagement with our members in new initiatives."
Nine members were conferred the Fellow status at the AGM.
Membership recognition awards were also presented to loyal members of 20 and 15 years.
Tokens of Appreciation were presented by Boon Yen to outgoing Board members, Sia Nam Chie, William Lim and Eric Lim.
Certificates of Appreciation were also presented to the FY2018/2019 Board.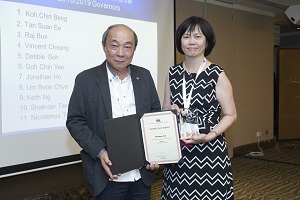 Newly elected President Mr Koh presented CIA and CRMA certificates to recipients at the event.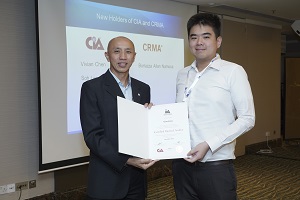 The event also saw lucky members walking away with two lucky draw prizes. The top prize is one pass to our flagship Annual Conference on 16 and 17 October 2019.
Click here for more photos.