Home
>
Resources
>
IIA Singapore Blog
> New Year Resolutions For Internal Auditors
New Year Resolutions For Internal Auditors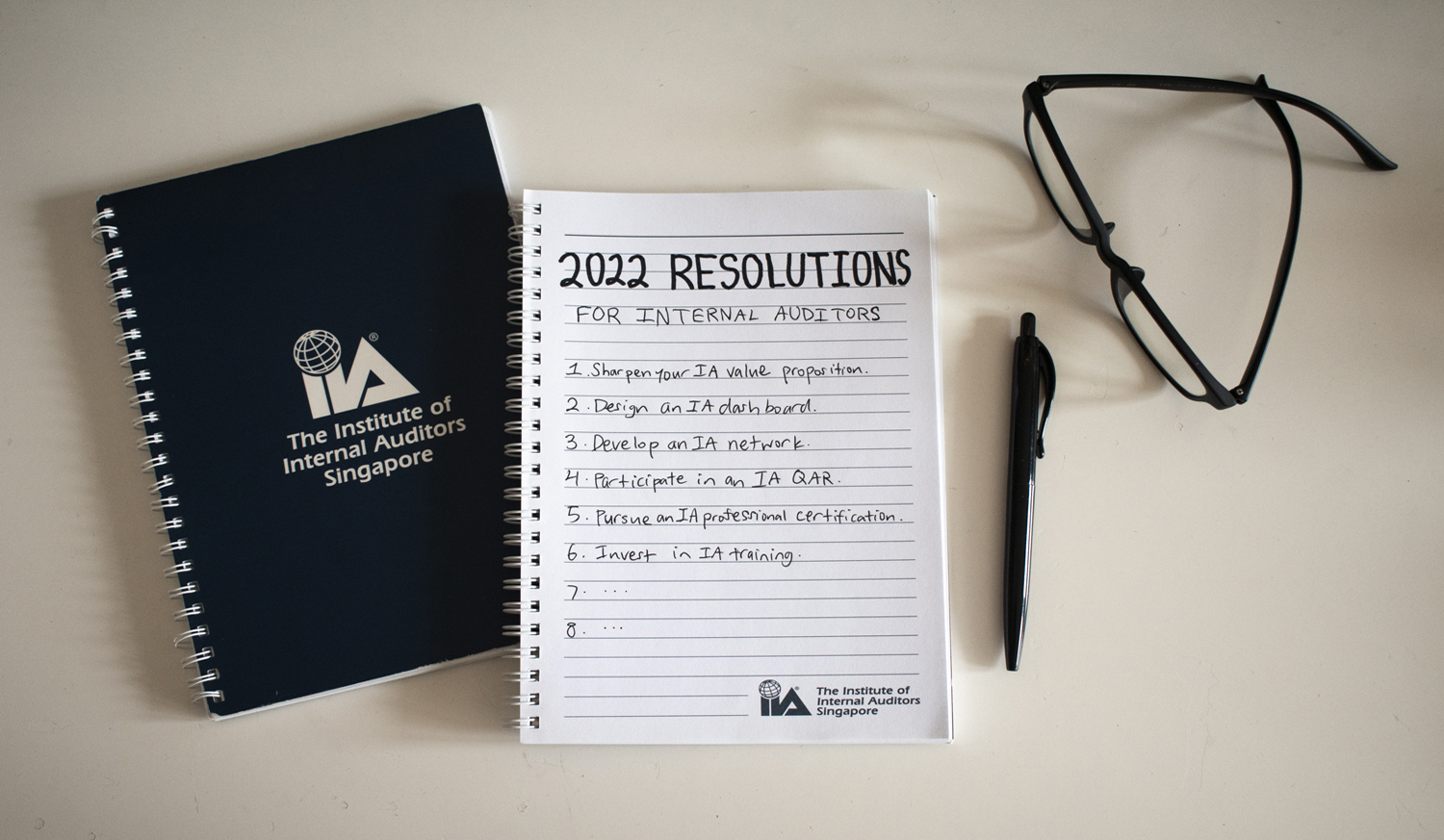 This is wishing you a belated Happy Solar New Year; and an early Happy Lunar New Year!
Whether you are busy ramping up the Gregorian calendar or busy getting ready for the Spring Festival, this is the time of the year that invites us to reflect on the year that was and imagine the year that can be.
For 2021, we can only rejoice in our accomplishments and derive lessons learnt for a better future, whereas 2022 is still full of opportunity and unlocked potential. At this time, we can really endeavor to make 2022 a transformational year or, at least, make it a year that stands out in our personal or professional journey.
For sure, positivism can read awkward in these times of Covid gloom… but do you face uncertainty without purpose or goals? Or do you rather set out with a vision in mind?
New Year resolutions can help us to start the annual cycle with purpose… or can they? In this blog, I share a few ideas to help you form your own opinion.
Are New Year resolutions worthwhile?
At face value, it would seem that New Year resolutions must be worthwhile, if we take into account that they have existed for some 4,000 years (commonly dated back to the ancient Babylonians) and they are common in pretty much all cultural clusters. Somehow, they have transcended time and culture; and there should be some reason why they remain prevalent.
On the other hand, research widely suggests that only half of the population adopts New Year resolutions; and the percentage of people that stick to their resolutions decreases throughout the year. By the end of the year, it is generally estimated that less than 10% of people still follow their resolutions.
I think the obvious perspective to acknowledge is that the value of New Year resolutions depends entirely on our ability to define meaningful goals and our ability to follow them through to completion. New Year resolutions are a waste of time, when they do not target valuable transformation, or they do not materialise into more than wishful thinking scribbled on a piece of paper.
How can we set meaningful New Year resolutions?
New Year resolutions are ultimately a form of goal setting; although they are usually of a more personal nature than the corporate targets we are accustomed to. As a consequence, many of the principles we apply when setting corporate objectives can be equally applied when defining New Year resolutions:
Be focused – Shortlist a few aspirations that you can complete early in the year; and build on the satisfaction you will feel upon hitting your targets. We can always add more resolutions (or stretch our original ones) as soon as we have fulfilled our first set of priorities.

Be SMART – Ensure that your New Year resolutions are 'Specific, Measurable, Achievable, Relevant and Time-bound'.

Partner up – Engage colleagues or friends with similar interests and benefit from a healthy dose of peer pressure. We are social creatures, and we tend to do better when we are accountable to more than just ourselves.

Be incremental – Break your New Year resolutions into smaller goals and log them into your calendar; to serve as regular reminder of your aspirations for this year and to help you track progress.

Reward yourself – Don't forget to celebrate success, every time you hit any of your milestones.
What are some New Year resolutions meaningful for internal auditors?
Most popular resolutions are about self-improvement; commonly relating to exercising more, losing weight, discontinuing bad habits (or developing new good habits), improving relationships, and performing well with work or studies. For sure internal auditors also pursue such worthy endeavors… but have you considered some New Year resolutions specifically relevant for our Internal Audit (IA) profession? Below are some examples:
Sharpen your IA value proposition – so you can effectively articulate your value, in a way that helps you to promote yourself and the IA profession you represent.

Design an IA dashboard – because 'what gets measured gets done' and it can bring the effectiveness of your dialogue with stakeholders to the next level.

Develop an IA network – to contribute to (and benefit from) the wider community of professionals with similar experiences.

Participate in an IA Quality Assurance Review – for your own organisation or a different one, and continue to promote the highest possible quality standards in the IA work you do.

Pursue an IA professional certification – as a very accessible enhancement for your resume.

Invest in IA training – to upskill yourself and stay abreast of latest technical and technology developments.
All in all, I wish that 2022 has started well for you and I wish that it will continue even better. You hopefully have a shortlist of realistic New Year resolutions you can pursue; and you hopefully have the self-discipline required to see them through. This is the basic recipe for continuous growth, and IIA Singapore is always happy to contribute to your journey.
Can IIA Singapore help with some of your IA New Year resolutions? Please let us know via email to secretariat@iia.org.sg.
Antonio Martinez is immediate past Vice President Head Internal Audit at DKSH and past Regional Head of Internal Audit for Asia Pacific at Novartis. He recently returned to The Institute of Internal Auditors Singapore Board of Governors after serving a first tenure from 2013 to 2017. He is a passionate advocate of the Internal Audit profession, although he also served operational roles at Novartis, such as Philippines Country Chief Financial Officer (CCFO) and China Head Financial Operations & Control.
---
The Institute of Internal Auditors Singapore blogs reflect the personal views and opinions of the authors. These views may differ from policies and official statements of The Institute of Internal Auditors Singapore and its committees and from opinions endorsed by the bloggers' employers.